Webb Paton Swindon
Well I did say I would try to update stories past. I visited Webb Paton farm meeting some months ago on the new Farming BPS scheme updates. Most informative. However, excitingly I won a competition on the night and £300 worth of vouchers for the company APM supplies.
As I needed a new sprayer it was a delightful win for me and after surveying their site: www.apm-supplies.co.uk chose a Wessex sprayer for the back of the RTV. Setting up is always a challenge with these things and those of us in farming know it is a whole different ballgame to knapsack spraying. here she is ready for action…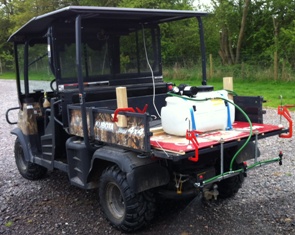 Thank you Webb Paton bye bye last remaining thistles and buttercups!