Kensmyth support Accessible Icon Project – new Disability Sign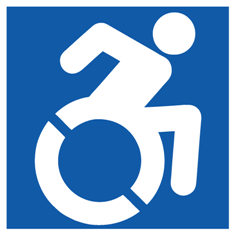 Kensmyth the first Alpaca Stud in UK to support the new Disability Sign?
Having read the following article in full detail (edited here) and with much empathy, Kensmyth decided to show their full support for the new Sign idea!
QUOTE
22nd September 2013 BBC News – Damon Rose
The stick figure in a wheelchair has become one of the most widely-used and instantly recognised symbols in the world – but a group of American designers want to change this famous icon of disability.
Seen on toilet doors, parking bays and practically every public building in the developed world, the International Symbol of Access has been in circulation since 1969. But now a group calling itself the Accessible Icon Project want to give the design a more 21st Century, even paralympic, feel.
The new icon is based on the old one but shows the figure leaning forward, actively pushing the wheelchair – more David Weir than Ironside.
The group's website is critical of the old icon: "Its arms and legs are drawn like mechanical parts, its posture is unnaturally erect, and its entire look is one that makes the chair, not the person, important and visible."
Artist Sara Hendron, a lecturer at Rhode Island School Of Design, USA, is one of those behind the project. She says the new icon started as a piece of "guerrilla art" on the campus of Gordon College near Boston, where she and collaborator Brian Glenney adapted existing access signs by overlaying a transparent sticker of a new active wheelchair user so old and new could both be seen.
The designers wanted to get people thinking.
Hendron says the new symbol is "a metaphor for self-direction and self determination," and believes the old one has become politically invisible. She thinks that other similar public information symbols are more dynamic than the classic wheelchair sign and are pictured actively engaging with the world.
"If you go to a national park which says you can have a swim, a picnic or fish there, you'll see all these 2D icons that are indicating with very animated gestures all that stuff you can do with your body."
There's been interest in the new icon from around the world, from in Italy to India and South America.
"We're eagerly watching New York City who have said they're going to implement it but are presently at the red tape stage," says Hendron. "And in the meantime we've heard from other towns as well and scores of individual organisations and institutions."