Kensmyth Alpaca visitors in all weathers
Wow – time flies does it not? I have usually bought my Heston orange Christmas puddings by now and stored them on a shelf with Mums homemade ones for visitors. I have not had anything other than home deliveries for so long its amazing. a quick dash into the shops for emergencies only. hectic hectic.
We have had some fantastic Events and lovely Clients and visitors to Kensmyth in the last month and what with cria weighing, micro chipping and ear tagging time just gallops by. Some cold weather and 33 in the barns on several wet cold nights too. I even managed to fertilise three fields by myself with the spreader whilst the poover was broken – mended now. Yes, you can fertilise grass between September and November – don't look so surprised it works a treat!
Here are some sunnier photos from the past weeks…
Jason telling the Alpaca one of his jokes…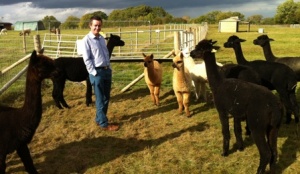 and a sunny blue sky shot…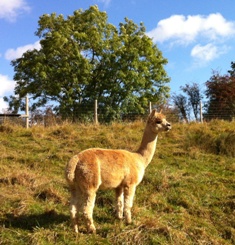 and naughty cria that will not stand in the pen to be weighed have to be held!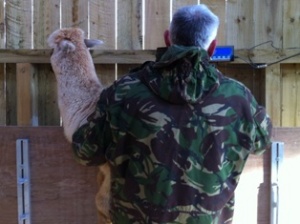 back soon