Kensmyth Stud on Facebook – finally and walnuts to you too !
well I finally gave in. You all thought I had been quiet and something was wrong (amazing how when you go quiet you cannot simply be busy) but the reality was we have been hectic, been making diarised visits for next years plans and normal farming life AND… I have been trying to get to grips with Facebook.
So – all posts are now too on KENSMYTH STUD on Facebook. for those of you who follow Facebook rather than click on websites.
A long time coming for us but priority is always the Alpaca and farm before learning new technologies -but we made it!
meantime we have also been blackberry picking, apple picking and… wait for it Walnuts!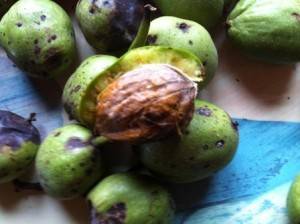 look like conkers really don't they? nope, that is how a walnut comes out folks!