Kensmyth budding Film Producer achieves his first major award 2015 at Cirencester College
NEWS that is very exciting, if a little behind the times. Many of our regular readers know that Mitchell our youngest (16) is highly creative and a budding Film Producer. He is studying Media at Cirencester College, worked in many different areas and local companies gaining experience and has also created the Suri Film DVD which we sell on our website here.
Well, not only has Mitchell achieved the highest grades attainable this year for his first year AS Level Media Studies but also he was overwhelmed and delighted to receive the Cirencester Sixth Form College Andy Freedman Creative & Technical Award 2015 a short while ago at their Media Screening evening.
Well done to all presenting there that evening I was truly amazed at the high standard of the short films produced.
Here he is, Kensmyths very own Film Producer with his camera trophy!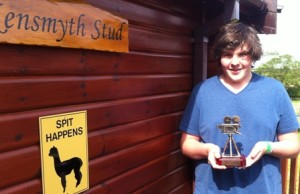 Well done Mitchell and I know that everyone will want to wish him every success for the future.