Hernia Truss for Alpaca or Hernia Belt for Alpaca
I have not disappeared – honest Injun! I am here and its frenetic. I have been finishing so late – and it is really noticeably getting darker earlier – that I have simply crashed out with no time to Blog. Sorry but I am here now – Da Da!
Right then. We all know that Alpaca births can be challenging and an essential piece of kit in your "birthing Box" should always be a Hernia Truss. Hernias appear at the umbilical on the cria anytime from birth right up to 4 weeks old, depending on how crazy hooley the cria is. sometimes it is caused by straining for the first poo but often it is just a bright bubbly energetic cria bounding around before all their "bits are fixed" as someone put it the other day!
Could I find mine? Nope. 14 cria down with varying excellent of challenging births and one hernia. small but there. I phoned Graham who runs Alpaca and LLama Care from whom I purchased mine in 2008 but they do not sell them anymore. Loads of other great stuff though: www.alpacacare.co.uk
Sooo, Alpaca friends (always need these to share thoughts) to the ready! one posted to me and a quick mish mash of paper patterns and one made!
looks like a Spider I know but essential just to hold things tight for a few days/week and then fixed – simples!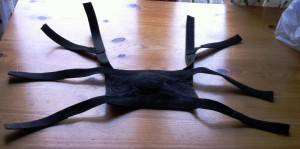 the original truss lying flat to show all straps
how it fits on the cria – my hand would be the neck with the strap below going around the chest – you can google this I am sure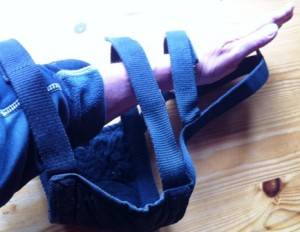 truss showing pad which is positioned over the hernia – do not forget this must be checked for slipping several times per day and they wriggle madly!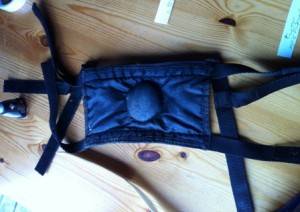 A paper template using Velcro laid out to show the straps over the original one … don't forget which way the Velcro hooks and loops go (sides up)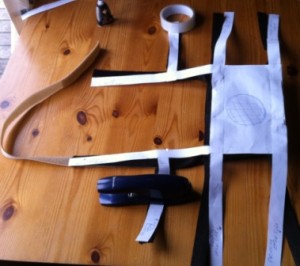 Then make sure you have enough at the front for adjustment as all cria are shaped differently and "one size" does NOT fit all!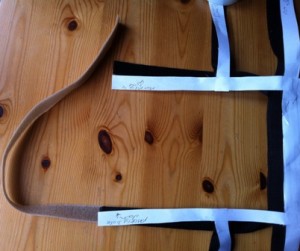 and Bingo – a makeshift Hernia Truss or Hernia Belt for Alpaca Cria.
Meantime – sent the template to Mary Roach who is now supplying them too!
Check your cria tummies – you will all get a cria with a Hernia at some point