4th July American Independence Day and Cotswold Show in Cirencester
Wow – I cannot believe it is the Cotswold Show again already. I always think of that as being Midsummer – I hear you say it IS Midsummer Helen but in my mind it has still only just started not half way through!
I love the Cotswold Show with the variety of things to do and see and the food sections. Sadly with cria due in different fields and only one of me it will not happen this year. Have fun if you are going and do not forget the sun hat and sun cream!
Temps have been soaring here but with our Field Shelters having windows at the back the breeze has kept them cooler and the Alpaca have enjoyed the respite from the heat.
With all water troughs raised, it is important that the Cria who cannot yet reach the troughs can drink. Milk provides food but does not necessarily rehydrate so the cria must have access to fresh water. Some of my adults like a hosing down in a sprinkler too but it can be very time consuming and one can become a "personal slave" to that group – I learnt long ago … so those that like it have one and those that don't do not!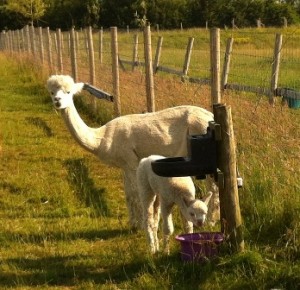 oh and if you do use this method – don't pull the bucket from under the trough or they will all use it as foot baths!
Bring it on