wow – has it been so long since I blogged!??
Time flies when you are just sooo busy. We have had streams of delighted visitors, been tending the grounds, husbandry vaccinations and toenails, barning in wet weather with inevitable mucking out … and I had a day off too…
well if you consider packing the car at 10pm and leaving to set up a stall at 6.45 am and on your feet all day then unpacking a day off, of course! more on that another blog! Yes – its marketing winter Kensmyth products time!!
meantime, Kensmyth were delighted to meet Angus who lives in South Cerney and introduce him to our friendly Alpaca. Our Alpaca are not small Angus – you are very tall!!
A very enterprising young individual who we were delighted to meet and sponsor for his trip to Peru. We always try to help locally where we can, just as others help us too.
you can see more about Angus at : http://angusexploring.weebly.com/blog-and-fundraising
meantime, here he was at Kensmyth…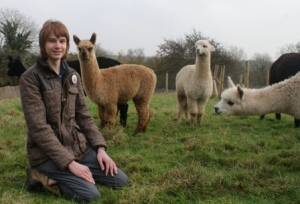 and Angus receiving his cheque towards his trip…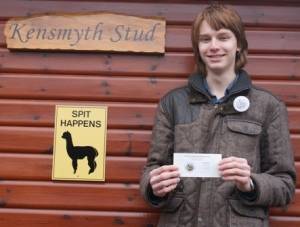 back soon