yet more weaning at Kensmyth Alpaca, Clay Meadow
well, as went through who had to be WEANED from the different herd groups and when, we discussed many things and one of them was of how someone had said (apparently) that I bred miniature ponies.
I did laugh at the time because our British Spotted Ponies although ponies are definitely not Miniatures! Anyway as we moved from group to group ( I soooo hate weaning as a Mum it goes right through me to take cria from their Mothers no matter how old, big or heavy in weight they are) we discussed the virtues of the Colt born to Kensmyth this year who is really rather stunning.
Those in the know (Alpaca Breeders) know it takes ages to separate the right groups and we wean by sex with a mind to colour (most don't know Alpaca are colour prejudice which means if you put 2 white cria with a dark colour they will bully it and vice versa) so it took a while. Big chunky monkey cria all been on hard food for months!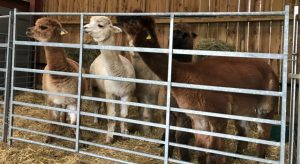 By the end of it we had decided on many things, including the colt and I wonder if you can work out what the most recent cherished gift addition to Kensmyth Equines was LOL???