Time and Tide wait for no man nor spits offs or scanning, Kensmyth Alpaca
I often read that folk rely on Spit Offs for pregnancies or seeing the females lie down when the growing cria orgle… I shudder at the thought of all those cria that arrive unexpectedly as a result of this misconception that a Spit Off is a genuine judge as to if an Alpaca female is pregnant or not.
The only way to know if a female is pregnant and even then it can be wrong – is to scan.
Now is the time to consider weaning and all the differing groups of ages requiring barning this winter… with the Beast from the East already threatened by the Weather forecasters and a long cold winter ahead, make sure that older, younger and pregnant Alpaca are well covered and warm at all times.
Newly weaned cria might look strong and ready for anything they try but they are just babies and weaning is the most stressful time for both the cria and their mothers… see how they grow so quickly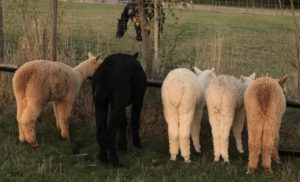 a long suffering female will tolerate the cria practising how to mount for the first time by lying down known as cushing but it does not mean she is not pregnant – just like most mums VERY TOLERANT
and other Mums often step in to give one Mum a break – just like a Coffee morning really !