Good friends stay at Kensmyth, Clay Meadow
well my Mother always told me "over your lifetime you will know who your true friends are" and over the years I did eventually learn what she meant. Being Aries (Ram) I am no wallflower but am lucky to have many close friends who have been friends for my lifetime, I even regularly see my "bestie" from age 11 at school… a friendship enduring 43 years already – I consider myself lucky to be blessed with so many kind and true friends.
However, I have to take my hat off to one of my friends today who worked with us on the Alpaca through the torrential rain all day long then, at the end of the day had a more pleasurable experience welcoming the latest addition to Kensmyth Equines…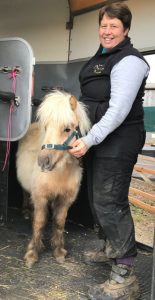 I wonder who that could be on my trailer leading a British Spotted Palomino filly down the ramp?
Big thanks to you today!