Fox Guards available for lambing season 2016
FOX GUARDS AVAILABLE NOW – PROTECT YOUR LAMBS THIS SEASON
Alpaca are renowned for their guarding capabilities and protecting lambs. They walk towards the "predator", make a loud noise, enough usually for the most persistent fox/crow etc.They also protect and keep company orphans.
Shorn annually providing excellent quality fleece, paddock grazers.
Kensmyth Stud have available castrated male Alpaca for sale ready for this job – and of course your enjoyment of their company and fleece too!
Biosecure, Closed herd, stock available all year round.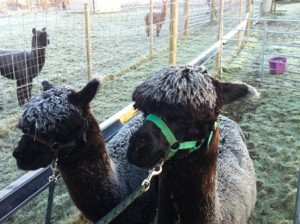 Used on farm for Alpaca walking (note they walk within farm ring fence only) with visitors, these  are now for sale.
Castrated males, rising 3 years, one black and one fawn available now – sensible price to genuine home. Delivery within 40 mile radius can be arranged.
Please note these are halter trained, castrated and trailer trained as well.
Please view Alpaca Walking on www.kensmyth.com to see them in action with visitors to our Alpaca farm.
Helen@kensmyth.com Tel: 07799700587