BBC Radio Gloucestershire 3rd October 2016 – Future for Farmers
http://www.bbc.co.uk/programmes/p047t6g9
This is the interview (3 hours) on BBC Radio Gloucestershire this morning.
The topic of "Future for Farmers" is introduced at the start and threads through the recording. great listening as always.
If you want to skip to listen to the main parts, use the forward arrow on the screen tolook at: 01.03, 01.07, 01.13,01.33, 02.00, 02.08, 02.14 and 02.33.
I was visited by Freya from the BBC on Friday, 30th September who had a tour of our Alpaca Farm and interviewed me.
The discussion is about the current and prospective Sales of Land by Gloucestershire County Council since 2010. So it is talking about the Future of Farmers in Gloucestershire looking to become Tenant Farmers.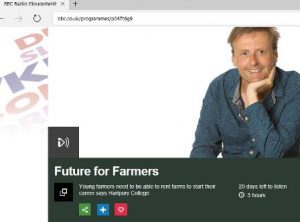 We moved our Alpaca Business, (established on our previous farm about 10 miles away in 2008) to Clay Meadow which was sold by Gloucestershire County Council in 2012 because their own plans for it failed.
It was on the market for a long time because GCC had let the land go to ruin with impoverished sward with an invasive weed problem – scotch thistle and poor fencing to name but two issues with it.
We have invested a lot of time, effort and money into the land and have turned it around to great grass and productive use of the land with our Alpaca farm which Visitors both locally and Internationally enjoy.
As I stated in the BBC radio interview -whilst we are here, it will stay as a working livestock farm.
Below is a photo of the BBC Radio Gloucestershire and Freya car in our Car Park!