Alpaca castration under anaesthetic – graphic photographic content not for the sensitive
The following post contains extremely graphic photographs of a variety of differently aged male Alpaca under anaesthetic for castration. The purposes of this blog is to help new Alpaca owners understand the options of castrating when putting under anaesthetic or to "cut standing" (castrate without anaesthetic standing up) and what to expect. Whilst more expensive by the use of more drugs, it is our policy here at Kensmyth Stud to castrate only under anaesthetic.   I would like to thank George Vet Group not only for their skills but also for being happy for these photographs to be posted for educational purposes. * please note we have avoided excessive use of veterinary terminology so that all can understand the procedure easily… DO NOT SCROLL DOWN IF SQUEAMISH.
once the Alpaca has been put under anaesthetic it will lie down and one vet will hold one hind leg out of the way for the duration of the operation…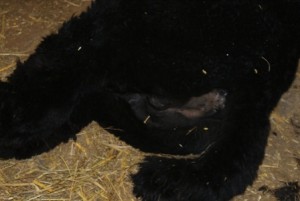 the area will be sterilised and cloths used prior to the first incision…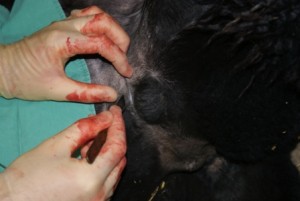 the first incision will be made in order to access the testicles…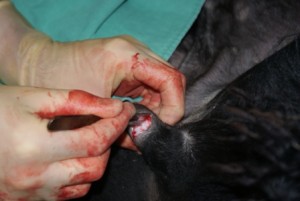 The testicle must then be removed and brought through the access hole…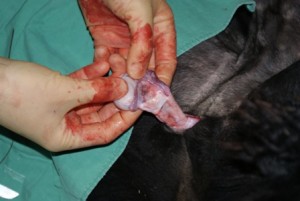 the testicle then needs to be physically cut off…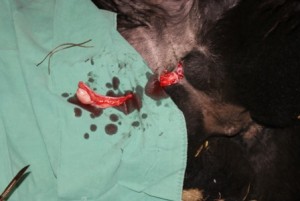 the access hole must then be stitched…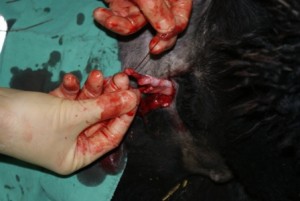 with dissolvable stitches…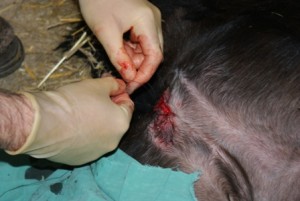 this leaves a very small area which must be sprayed with antibiotic spray and kept reasonably clean (no wet mud)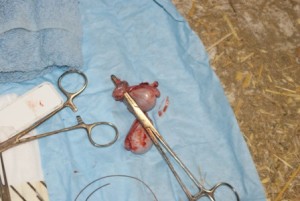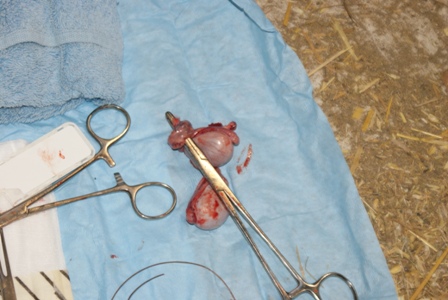 the age of the Alpaca dictates the size of the testicles although some males are naturally larger, we castrated several age groups at this time of year to avoid excessive flies which can cause infection. under anaesthetic the Alpaca are also given antibiotics.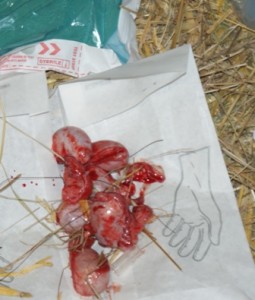 recovery is just a couple of days with swelling decreasing within 24 – 48 hours.
the "attitude" of the male varies once castrated depending on if it has been used as a stud male or not.
most will settle within a few weeks after castration and never look back!
please note this is the opinion of the writer and Alpaca farmers vary in their methods of castration and opinions.
the testicle must then be cut off… the same procedure applies with the second testicle immediately afterwards…