Well we did say we had been busy here and that we had  something exciting to tell you… born on the day of the Eclipse.
Born at 8.6 kg on the day of the Eclipse –  he had to have a name related to the Eclipse so he is called Sliver Moon.
He was two weeks late actually so always cautious before making announcements about new arrivals in these temperatures!!
He is now just a week old and very bold, having gained a kilo in that time and up one size Cria Coat.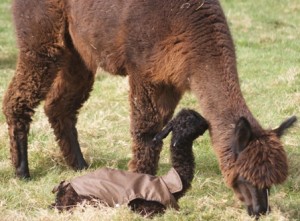 simply stunning!