2014 Boxing Day surprise revelation
Well did you have a fab time? We met loads of new faces yesterday and crazy busy. For the first time I did Christmas lunch at lunchtime instead of dinner time. Farming does not allow time out so once organised, back out I went. Everyone else totally satiated and replete, had the afternoon off. hubby much better thanks but alas unable to assist until better. three sons did well though and all hay out.
With heavy rains due here today, much Field Shelter work was required and extra water out. Amazing how you can have solid frost and frozen pipes at 6 am and running water and rain a few hours later.
So did you guess what the nuclear warhead is? no?
Can you see it now?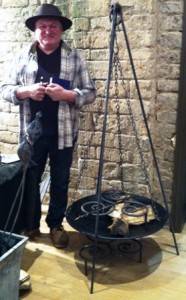 A fire pit
pictured here complete with its maker!
This gives heat and cooks. Our BBQ after 15 good years gave up earlier this summer so what a great idea.
hubby loved it.  Now we can burn all that spare wood and get free heat and toasted marshmallows for our visitors!!
handmade from ANDREW FINDLAY of the Grainstore in Gloucestershire.